The Truth behind Matched Betting in 2020
From the age of 6, I've always had some sort of entrepreneurial spirit.  At that age it was pumpkin farming, ok farming is a slight exaggeration, I had 3 pumpkin plants which yielded about 12 pumpkins and revenue in the region of £20 per year.    My passion for business continued throughout my teens and upon arriving at university, I stumbled across the world of Matched Betting.
If undertaken correctly, Matched Betting is a risk free method of essentially using the free bets offered by bookmakers and turning them into profit.  How can this be risk free I hear you ask….to understand this I must firstly explain the difference between a 'back' bet and a 'lay' bet:
A back bet: is a selection with a bookmaker or market that something will happen.  An example of this would be:  Bournemouth FC will win the league.
A lay bet: is a selection with a bookmaker or market that something won't happen. A similar example would be: Manchester United won't win the league.  In lay betting, you essentially become the bookmaker to a back bet.
Now this can be difficult to understand but when leveraged correctly, it can be a very powerful money making machine.  It helped me fund what in hind sight was a very extravagant university lifestyle and has gone on to make people in excess of £55,000.  Read on to find out how this could be you.

The basic concept is simple.  When using your free bet, you bet on every outcome of an event to ensure a guaranteed profit no matter what the outcome. You do this by cancelling out the risk on the back bet by betting against yourself at the same odds (the lay bet) which you can do at a betting exchange.  Following your initial or qualifying bet you will then be awarded the free bet by the bookmaker.  This is the part where the profit is made.  All you need to do now is repeat the first process, bet using the free bet whilst also laying the same bet and no matter what the result you are guaranteed to make a profit.
I'm completely against gambling, the weighted power of the odds means that over the long run you'll always lose money.  We can use these free bet opportunities to ensure we make money no matter what happens.
Let's break this post down...
Risk and Reward?
Let's focus on the risks initially.  The use of the word betting in 'Matched Betting', is somewhat misleading.  If implemented correctly matched betting is a completely risk free method of earning money.  Where there is an element of risk is from human error and as such it's essential that you follow and understand every part of this article before setting off on your journey.
Secondly, let's look at the rewards.  For each matched bet, you will be left with up to 95% of the free bet amount as profit.  This is because betting exchanges such as Betfair usually charge a small commission (5%) on winnings.  There may also be a very small loss on the qualifying bet due to the minor difference in odds on the websites you use but fear not this will be recouped by the free bet.
Matched Betting – An Example
Whilst the concept of matched betting is relatively straight forward, it can take a while to get your head around it.  As such, I thought it would be useful to give you a full step by step demonstration whilst I introduce my willing friend Jack to Matched Betting.
Step One – Sign up for Betfair.com
First things first, you'll need to sign up to a betting exchange.  Betfair is a betting exchange that makes it possible for backers and layers to match their bets with one another.   It is by far the most popular betting exchange and that's important because it means that as a customer you have more opportunity for your bets to be matched with someone with the opposing view.
This will be your main port of call in the world of matched betting so get signed up now.
Step Two – Sign up for Coral
In this walk through we'll be using one of my personal favourite sign-up bonuses, Coral.  They currently have a special offer for new customers, called "bet £5 and get £20 in free bets".  Basically if we stake £5 of our own money (the qualifying bet) Coral will give us £20 worth of free stakes to bet with.
You can access the special offer by clicking here.
When registering I'd strongly recommend opting in to receive offers and promotions via email, these will be useful to make profits on an ongoing basis.
Step Three – Finding an opportunity
Just before we find the opportunity we need to make sure you've deposited some cash into your Coral Account.  In this instance it is £5 to qualify for the offer.   You'll notice that your account balance should now be £5 and your free bets balance should be at £0.  This will stay as £0 until we place a £5 matched bet.
One more step, instead of using fractions (4/1, 7/2 etc), us Matched Bettors like to use decimal odds.  On the Coral home page, you'll see the option to change over from decimals to fractions at the top, change this across to make life far easier.
Now we need to find a suitable bet.  This used to be slightly difficult however there are now many calculators online which will source these for you.  Using the free odds comparison service at Oddsmonkey (click here to sign up for free) I found the below qualifying bet:
We're looking for a bet where you can place a back bet on it at Coral and then place your lay bet on the same selection at Betfair for the same or as close odds as possible.   We want to keep the odds as low as possible which will reduce the amount of money we deposit at Betfair, however we also need to make sure they are over 1.5 as that is a requirement of the particular offers terms and conditions.
So I've gone for Wigan to win the first half against Crawley town, which has odds of 1.8 on both Coral and Betfair.  Let's step back and run through this for a second.  You place a £5 bet at Coral and 'lay' a £5 bet at Betfair.  If the bet wins (Wigan win first half) you'll get £9.00 (5*1.8) from Coral and have to pay out £9.00 at Betfair.  In this instance you've reclaimed the whole value of your bet.   Should Wigan lose you'll lose the £5 with Coral and win £5 with Betfair, again breaking even.
Note that this doesn't take into account commission of 5% that needs to be paid if you win at betfair.  As such you'll need to use the calculator at Oddsmonkey (click here) to calculate the correct back/lay amounts to ensure you only lose a very small proportion of your stake (12p) which will then be recouped by the free £20 bet.  The snippet from the Oddsmonkey calculator is set out below:
Step Four – Placing your qualifying bet
We've picked our match, used Oddsmonkey to calculate the appropriate bets and now we need to place the bet on both betting portals.
Below we place the qualify back bet of £5 at Coral and in line with the betting calculator place a corresponding lay bet of £5.14.
No matter what the result of the above are we'll lose £0.12 of our original stake but receive the £20 free bet.
Step Five – Turning that free bet into cash
We now need to repeat stages 3 & 4 however this time using the free £20 bet instead of the £5.  You'll see below that the free bets are given in 4 x £5 bets (tokens), so simply place them as 4 separate bets on the same event.
What is important to highlight is that the stake (the free £20 given by Coral) is not returned and as such it's import to go for a bet with higher odds to maximize the incentive.  This will be limited by the amount you have in your Betfair account to lay the bets.  In this instance I've selected West Ham v Liverpool with the outcome to be a draw, as below:
Again using the Oddsmonkey calculator, we calculated the appropriate amounts to both 'back' and 'lay', adjusting the calculator to reflect that it was a free bet with the stake not returned and importantly placing 4 separate bets of £5. See the selection below:
Note that you'll need £50.04 (4 x £12.51) in your Betfair account to lay this bet.  If you'd prefer to start smaller just use 1 or 2 of the free £5 token bets initially.
Step Six – Withdrawing the profits
In the example above, my lucky friend Jack made the following from our 15 minute exercise:
We placed our qualifying bet where we lost 12p regardless of the outcome.
This triggered our £20 free bet
We made £3.49 from each of the four £5 free bets totalling £13.96
So our total profit was: £13.96 less £0.12 = £13.84
That should take no longer than 15 minutes and we made £13.84.  That's £55.36 per hour tax free.  Now I'm not saying you'll be able to achieve this month after month, however there are plenty of lucrative sign up bonuses which could earn you far more than the example above (try Bet365 next time where the sign up bonus is £100).
Now the bookies will try everything possible to encourage you to spend those winnings with them, which should be avoided at all costs.  To avoid any temptation withdraw your profit from Coral ASAP!
Finding Offers
I suspect you're thinking, ok that's fine but how do I go about finding these offers for myself.  Let's start with sourcing simple sign up bonuses and then move on to the re-occuring reload bonuses.
Initially you'll want to start with the more straight forward offers, however it should be highlighted that not all promotions offered by bookies can be used for Matched Betting and as such there's some work involved in reviewing the various terms and conditions.  Fortunately, other people have done the vast majority of this work for you.
There are two options here in either the form of online forums or the more popular method of using a matched betting service which will hold your hand throughout the process and provide numerous offers for a small monthly fee.  Usually priced at around £15 per month (the example above has virtually paid for one month's trial so why not use it to sign up, they're worth their weight in gold!).
I've summarised the top two platforms below.  Oddsmonkey as you may have guessed is my favourite and by clicking here you can receive a free trial to get you started.
OddsMonkey Review – View Full Review Here
OddsMonkey is the most established of the 2 reviewed having started life many years ago as an odds matching software and relaunching in 2016 entering into the matched betting full service space.  With over 30,000 customers it's also one of the largest providers.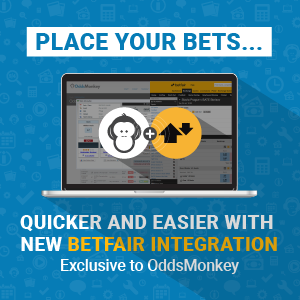 Customer Service – Upon signing up to the premium version you're given a free 30 minute 1-1 session with an OddsMonkey instructor who can either get you started or perhaps help you leverage the software once you've been up and running for a month or so.  There's also a very active forum to share your experience as you go along.
Software – Easy to use software with an array of tools including Oddsmatcher, Dutching, Racing Matcher, Tennis Matcher, Acca Matcher, Each Way Matcher.  What it doesn't include is casino and bingo offers.
Price – At £15 per month or £149 per year it's the cheapest of the softwares reviewed.  There is also a free version available offering a reduced but useful service.  Click here to sign up now.
ThriftyPoint thoughts:  A strong all round matched betting website with additional tools to assist advanced matched bettors should they require them.
Profit Accumulator Review – View Full Review Here
Benefits from the largest matched betting forums and most video tutorials.  The product offering is clean and simple to follow with easy step by step instructions.
Customer Service – Significant number of training guides and content available to help users navigate the software.  It also has a thriving community contributing to the websites forum.
Software – The website itself has a relatively simple interface, making it one of the easiest to use.  Plenty of tools available including oddsmatcher, acca catcher and dutching finder.
Price – At £17.99 per month it's the more expensive of the two however if purchased for a year the price drops to £150, almost in line with OddsMonkey above.  Again there is also a free version available offering a reduced but insightful service.  Use the link here to sign up.
ThriftyPoint's thoughts:  The simple interface makes the website easy to use with clear step-by-step instructions.  If you're planning on dedicating time to matched betting, you may wish to go with the slightly more advanced OddsMonkey.
Other Packages
Some other packages with free sign ups include:
Other Alternatives
As I mentioned earlier, the only risk associated with matched betting is human error.  As such I'd strongly recommend using one of the above matched betting service providers who will walk you through the processes.  If for some reason you don't fancy using their services (you'd be foolish not to – they're free after all!), you could join the matched betting forum at Money Saving Expert where there are various reload offers and recently changed sign up offers.
Once you've signed up to all the bookmakers?
The most lucrative offers are sign up bonuses.  Once you've used these up there are various reload offers which can be utilised to provide on-going earnings.  Reload offers are only available to current members of the bookmaker and can vary from betting £X to receive £X of free bets to second place refunds.
There are three ways you can find these.  Either via emails sent directly from the bookmaker, forums or from your matched betting service provider.  If we take a look at OddsMonkey's daily bonus page (4/11/2017) they are currently showing £141.95 in guaranteed profit for today alone.  That's most people's spending money for the weekend sorted.  A snippet from OddsMonkey is set out below:

Simple Recap
To get you started with Matched Betting I've summarised the most important elements of this article below:
If this is the first time you've read the page then please read it again. I can't stress how important it is to understand the various steps.
Sign up to Betfair and Coral to make the most of the example in the post.
I'd strongly recommend signing up to a free trial at either OddsMonkey (click here) or Profit Accumulator (click here). These platforms will eliminate any risk of human error as you get to grips with the art of matched betting.
Most importantly of all, do not use the proceeds to gamble otherwise the bookies win!
FAQs
Now you may have some queries after reading this so I thought I'd summarise the most frequently asked questions here.
Is Matched Betting legal?
Guaranteed profits earnt in your own time, now that sounds too good to be true.  There really is no catch, it's a 100% legal and legitimate way of generating additional income from your sofa.
Does Matched Betting impact your credit rating?
Your credit rating is not affected by depositing at gambling sites – indeed, most online bookmakers do not even perform a credit check, meaning that you can make money online genuinely guilt-free.
Do I have to pay Tax on the proceeds?
If you live in the UK like me, all income from gambling is completely tax free.
Matched Betting Acronyms 
Acca: Accumulator – When you place multiple bets on a coupon at a bookmaker, usually 4 or more teams.
RF: Risk Free – When we can place a bet using an offer and there is absolutely no risk to our balance.
RTP: Return To Player – All online casinos/games are weighted in the favour of the bookmaker. The return to player is stated as a percentage and shows weighting of the game.
SNR: Stake Not Returned – Refers to your free bet, which do you not get back if the bet wins.
SR: Stake Returned – You're unlikely to get your free stake returned.
WR: Wagering Requirement – The amount of times you need to bet a bonus for you to be able to withdraw it.
Other Questions
Please do comment if you have any questions about what you've read.  Best of luck from me and please do share this post if you think your friends would benefit from reading.
Other Articles
Enjoy what you've read? Join our mailing list to receive our best articles on luxury worldwide travel and points earning opportunities. No charge. No Spam. Only Inspiration.